La chambre d'Etienne
The Etienne's bedroom
ou / or
Du discours de la servitude volontaire
About the discourse of voluntary servitude
installation - fresco, video and survey - 2010
The
Maison La Boétie
, in Sarlat, is famous for having hosted the early years of the most renowned of Sarlat, Etienne de la Boetie. The image of the facade of this house is extensively exploited, as iconic, representing Sarlat, boasting its rich architectural heritage and promote the quality of its cuisine and its local produce (nearly two million tourists each year for a town of less than ten thousand inhabitants). But eventually, few people have gone beyond this facade. Even fewer who know the writings of Etienne and read his subversive analysis of master-slave bondage-domination: the
Discours de la servitude volontaire
(Discourse on Voluntary Servitude).
Guests in residence in these historic walls, I've searched for traces of Etienne de La Boetie (born in Sarlat the 1 November 1530). In vain, there is no sign of his life, of his work or of his mind in the city. So I decided to pay tribute to Etienne de La Boetie and to his Discourse on Voluntary Servitude, by comparing its resonance in this city of "art and history".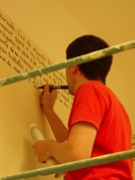 On the walls of a room in the house
Maison La Boétie
(arbitrarily declared to be the teenager's bedroom of Etienne de La Boétie), I copied the entire text of the
Discours de la servitude volontaire
(manuscript de Mesme, in Middle French ): 58 351 characters, 48 m2, 67 lines, 1167 meters, 12 black markers, 16 days of writing. Placing us physically at the heart of the text and embracing it in its entirety, we can make a unique and disturbing experience, in a quiet introspective.
Before entering the room, on a table in the hallway, a video gives us the results of a
survey
made on an unrepresentative sample of 13 tourists and 34 Sarlat's citizens, on 14 and 15 September 2010 in Sarlat. Questioning the biography of Etienne de La Boetie as much as contemporary life, economy and traditions, the video underscores the political nature, highly caustic and present, of the
Discours de la servitude volontaire
.
Yes, you can visit
La chambre d'Etienne
in Sarlat (FR) ! To make an appointment, please contact the Sarlat Heritage Department at : +33 5 53 29 82 98.

L'Enquête Sarladaise, video projected at the entrance of the Chambre d'Etienne.
Making of
the writing work.
Work produced in residence at Sarlat, in the context of the
Résidences de l'art en Dordogne
.

design and realization > arno fabre
residence >
Mairie de Sarlat - Service du patrimoine
and
Agence culturelle départementale Dordogne-Périgord

production and diffusion >
c15d