Cloche
Bell
sound sculpture - 2012 / 2013

On a wooden belfry, a bell is moved by a motor. It rotates slowly on its axis. Very slowly. The movement is barely perceptible. After a time, it's upside down, to the point of balance. Silent waiting. Suspended time. Suddenly, by its own weight, the bell falls, swings freely and rings strongly. The sound radiation is projected by the swinging of the bell. The harmonics develop, the deep resonance seems endless. Gradually, the movement slows down, the amplitude is reduced. The bell slowly returns to silence and to immobility. The motor continues to run. A new cycle is coming.
A complete cycle is adjustable from 15 to 60 minutes.
Traditionally the bell evokes the attachment of a community to a territory, and also the power of the one who masters time (the priest ringing Angelus, then the Mayor ringing hours). About it, the Bell of Arno Fabre has nothing to say, it requires us nothing, it is neither a call nor a rhythm. It is out of speed, out of social time and of its imperatives. It is a hole in the noise of the world.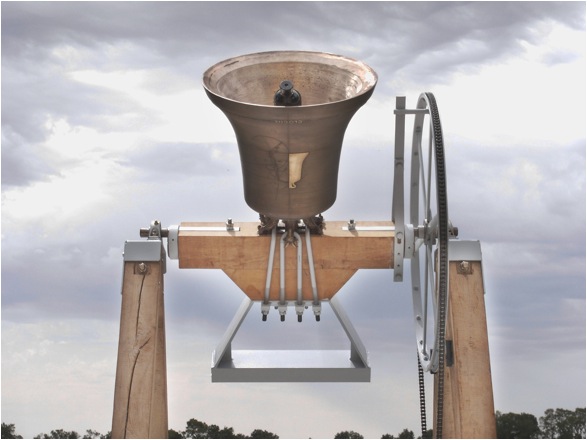 CLOCHE is a plastic and musical work, a sound and a movement, a vibration and a suspense, an history and a permanence. It is a work of those who blur the boundaries between disciplines, of those who look to the poem, free from fascination of modern.
" When I hear the bells ringing at full volley into the city, I stop. I can't resist this moment out of time, an elsewhere in suspense, drawn by deep sounds and moving masses.
The bell as sound object. An impact, a vibration, a resonance, a music.
The bell as moving object. A mass, a moment of inertia, a centrifugal force, a dance.
The bell as temporal object. A marker, a reference, a reverie.
The bell as signifying object. A symbol, a passage, a story. "

Arno Fabre, 2012.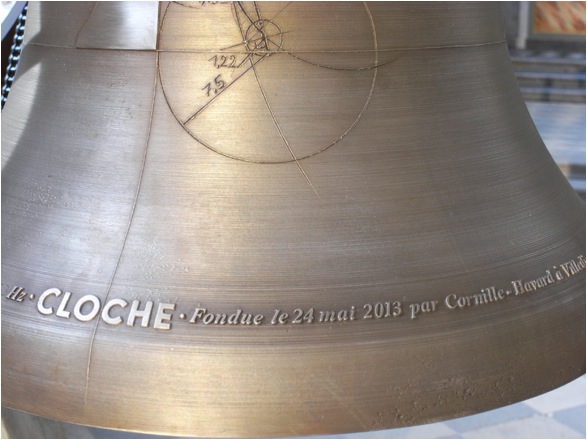 You can see, in picture, the manufacturing process of the bell at the foundry Cornille-Havard.
conception and bell's decor > Arno Fabre
belfry and mechanism >
Bodet - campaniste

bell foundry >
Cornille-Havard
production et diffusion >
c15d
thanks
to Paul de Sorbier and all the team of
Maison Salvan
for their invitation and confidence, to
Bodet
company and to Paul Bergamo and all the team of
Cornille-Havard
foundry for the quality of their work and for their hospitality.


Cloche
is produced with the support of
Maison Salvan
- City of Labège and of the label
Toulous'Up
- City of Toulouse.