Cloche
Bell
sound sculpture - 2012 / 2013

Webpage currently in translation, please check back later for the complete english text... Thank you.
On a wooden belfry, a bell is moved by a motor. It rotates slowly on its axis. Very slowly. The movement is barely perceptible. After a time, it's upside down, to the point of balance. Silent waiting. Suspended time. Suddenly, by its own weight, the bell falls, swings freely and rings strongly. The sound radiation is projected by the swinging of the bell. The harmonics develop, the deep resonance seems endless. Gradually, the movement slows down, the amplitude is reduced. The bell slowly returns to silence and to immobility. The motor continues to run. A new cycle is coming.
A complete cycle is adjustable from 15 to 60 minutes.
Traditionally the bell evokes the attachment of a community to a territory, and also the power of the one who masters time (the priest ringing Angelus, then the Mayor ringing hours). About it, the Bell of Arno Fabre has nothing to say, it requires us nothing, it is neither a call nor a rhythm. It is out of speed, out of social time and of its imperatives. It is a hole in the noise of the world.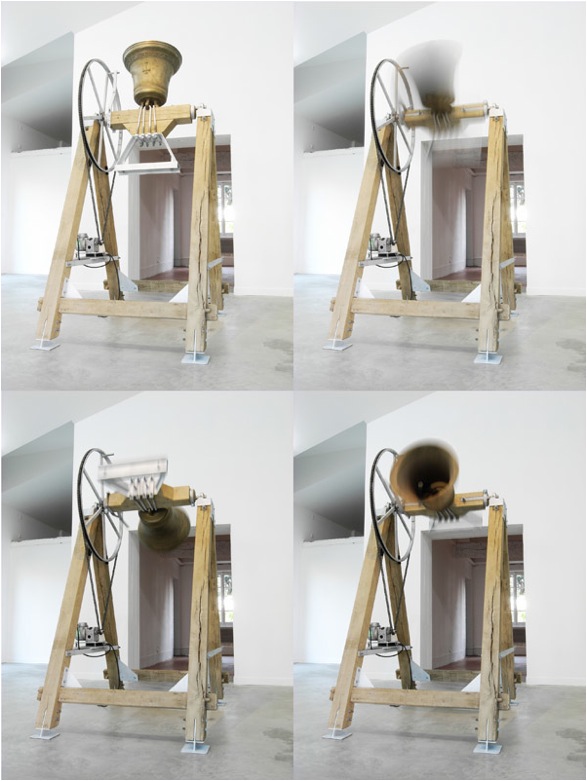 CLOCHE est une œuvre musicale et plastique, un son et un mouvement, une vibration et un suspens, une histoire et une permanence. Elle est une œuvre de celles qui effacent les frontières entre les disciplines en les ignorant, de celles qui s'attachent au poème, libres de toute volonté de contemporanéité et fascination du moderne, une œuvre qui pense le patrimoine autrement qu'en muséifiant ses objets.
"Lorsque j'entends sonner les cloches, à pleine volée dans la ville, je m'arrête. Il m'est impossible de résister à cet instant hors du temps, un ailleurs en suspens, aspiré par un abîme d'ondes sonores et de masses en mouvement.
La cloche comme objet sonore. Une percussion, une vibration, une résonance.
La cloche comme objet en mouvement. Une masse, un moment d'inertie, une force centrifuge.
La cloche comme objet temporel. Un marqueur, un repère, une rêverie.
La cloche comme objet signifiant. Un symbole, un passage, une histoire."
Arno Fabre, 2012.
«Si l'on devait reprendre les distinctions que Murray Shafer établit dans son «paysage sonore» entre les sons toniques qui dominent l'espace acoustique, les sons à valeurs signalétiques tels que sirènes, klaxons ou alarmes diverses et les sons représentatifs d'un lieu ou d'une communauté, il serait malaisé d'exclure la cloche d'une de ces catégories ; il suffit d'avoir logé près de l'une d'elles pour réaliser à quel point les cloches peuvent répondre tour à tour à chacune des catégories et même les cumuler en même temps.»

Jacques Ledune, in Les Cloches reviennent, mai 2011.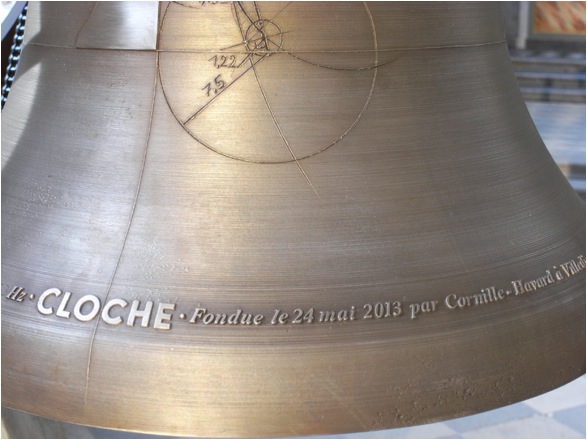 You can see, in picture, the manufacturing process of the bell at the foundry Cornille-Havard.
conception and bell's decor > Arno Fabre
belfry and mechanism >
Bodet - campaniste

bell foundry >
Cornille-Havard
production et diffusion >
c15d
thanks
to Paul de Sorbier and all the team of
Maison Salvan
for their invitation and confidence, to
Bodet
company and to Paul Bergamo and all the team of
Cornille-Havard
foundry for the quality of their work and for their hospitality.


Cloche
is produced with the support of
Maison Salvan
- City of Labège and of the label
Toulous'Up
- City of Toulouse.