Contre-nature Lois & paysages
Agains-nature Laws & landscapes
silverprint mounted on aluminium + adhesive lettering
12 photographs - 1,20 x 1,40 m - 2002
Landscapes are trendy, they are everywhere.
They are protected, cultivated, sold, visited, exploited, consumed … and exhibited.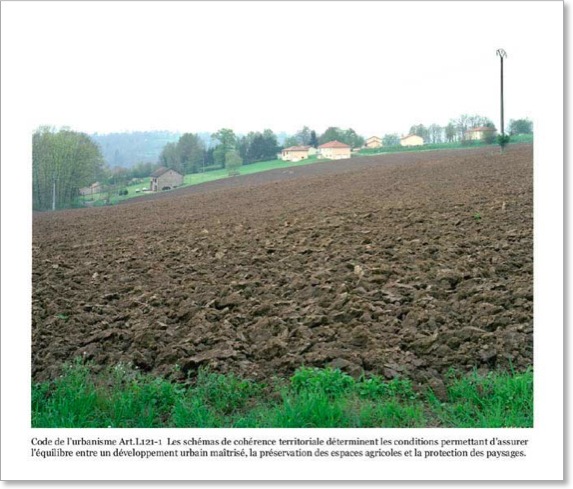 It is also the place of interests conflicts, the object of desires. Between the agricultural output, the adventure's lands, the idyllic rest, the forestry exploitation, the area to build : it is difficult to reconcile the landscape of the farmer, with that of the walker or the touwn planer. It is necessary to regulate the pleasure of it !

The word "landscape", eminently emotional and cultural, thus appears now in the legislative text. Particularly with the recent creation of the French Code of the environment (2000). The law directs and creates the landscape; directly, with an aesthetic, patrimonial or ecological conception; or indirectly, with an economic and productive approach. Sometimes, former laws which deeply impressed their landscaped transformations (cf.: the forest of the Landes created under Napoleon III); sometimes recent texts which try to repair the past errors (plantation of hedges after the excesses of the regrouping of lands), or texts turned to "the future generations". The relation between the preservation of the rural environment, the tourist exploitation and the preservation of the heritage is very often the stake.

Witness of the history as much as revelation of the orientations and contemporary contradictions, the landscape is the image of the society which lives in it. Contre-nature suggests, by associating photos and French texts of laws, the different point of views that we have in France on the territory, with its ambiguities, its oppositions and always with the same happiness in front of the crazy herb which steals.




>> See the 12 photos.

design and realization > arno fabre
diffusion > c15d
production > Le Fresnoy, studio national des arts contemporains - 2002.